People's Daily Headlines Follow with CWEG's Hedong Resource Recycling Center Project
2022-07-25
General secretary Xi said that China's economy has maintained steady growth and the fundamentals of China's long-term economic development stood unchanged. And he emphasized the four major issues of stability, development, ecology and border-area consolidation. On July 8, 2022, the front page of People's Daily published "Strengthening infrastructure construction, expanding domestic demand and stabilizing economic growth amid policy supports", reporting the CWEG's Hedong Resource Recycling Center project. As a major infrastructure that takes into account the long-term benefits, this project has ensured the progress of all works and promoted high-quality development.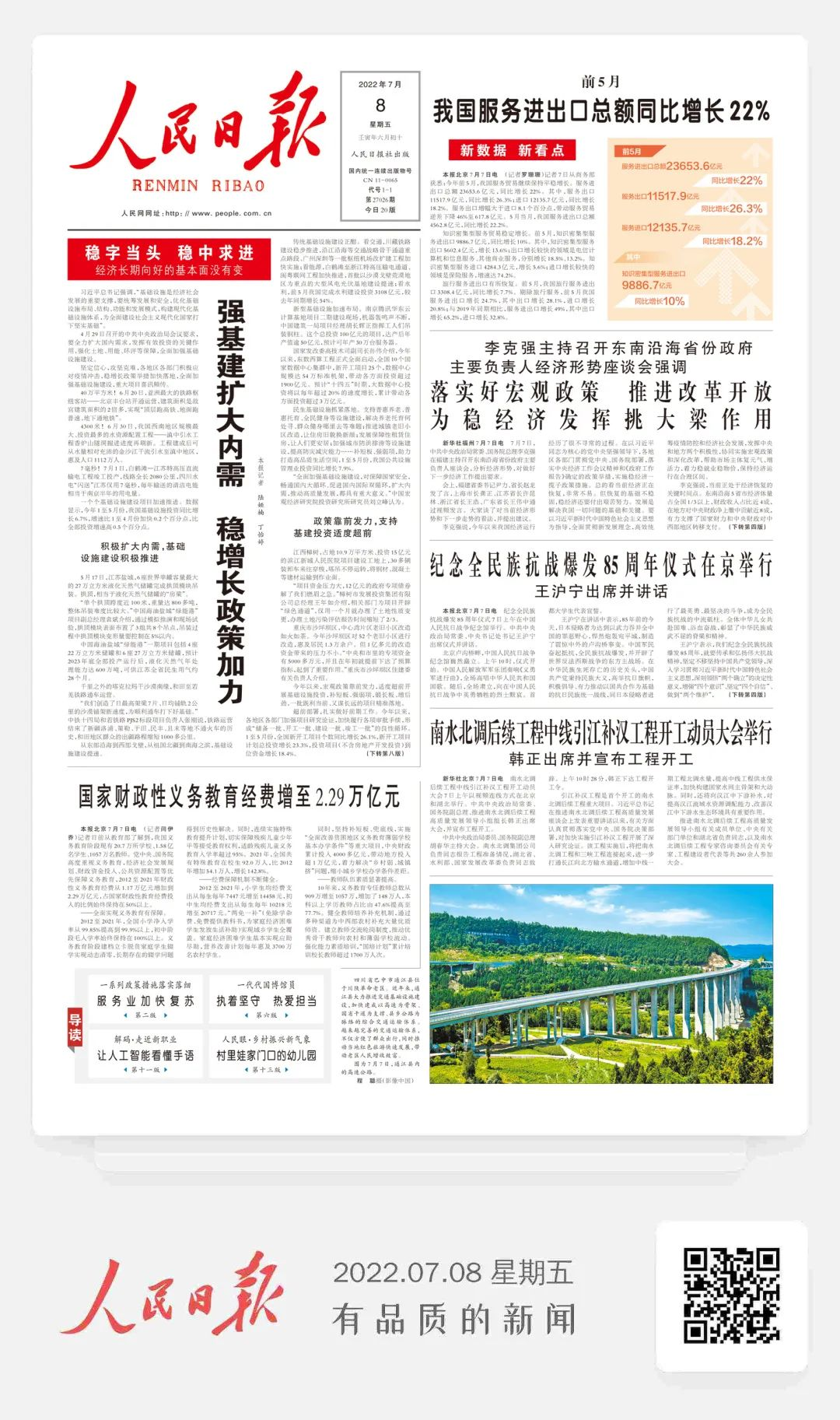 "Infrastructure is an important support for economic and social development. We should coordinate development and security, optimize the layout, structure, function and development mode of infrastructure, and build a modern infrastructure system, so as to set up a solid foundation for building China into a great modern socialist country in all respects." Xi said in a statement.
At a meeting of the Political Bureau of the Communist Party of China Central Committee on April 29, China has decided to take every effort to stimulate domestic demand, give play to the key role of effective investment, strengthen land security, energy efficiency, environmental impact assessment, and promote infrastructure construction.
With strong determination in rising to challenges and tackling tough problems, all regions and departments stay positive when facing the pandemic. Good news keeps pouring in with a batch of measures being carried out to stabilize economic growth and strengthen infrastructure construction.
400,000 square meters! On June 20, as the largest railway terminal station in Asia, Beijing Fengtai Station opened to the public. Two times as big as the Forbidden City, it has achieved "running high-speed railway on the top, ordinary cars aboveground and subway underground".
4,300 meters! On June 30, the excavation depth of Xianglushan tunnel of central Yunnan water diversion project, the largest and most invested water resource allocation project in Southwest China, has reached 4,300 m. With its completion, water can be diverted from the main stream of Jinsha River with relatively abundant water to central Yunnan, benefiting 11.12 million people.
7 milliseconds! On July 1st, the Crane beach - Jiangsu ultra-high voltage transmission project started operation. With a total length of 2,080km, it only takes 7ms to power Jiangsu. The clean electricity transmitted every year equals to the electricity consumption of Nanjing for half a year.
China is accelerating its infrastructure construction. According to the statistics, from January to May this year, China's infrastructure investment increased by 6.7 percent year-on-year, 0.2 percentage points faster than that from January to April, and 0.5 percentage points higher than that of all investment.
Keep boosting domestic demands and advancing infrastructure construction
On May 17, with the world's largest single tank capacity of 270,000 cubic meters, six LNG tanks completed dome roof lifting in Yancheng, Jiangsu. The dome is like the roof beam supporting the LNG tanks.
"The lifting is not easy for the span of the dome is nearly 100 meters with a weight of more than 800 tons each." Yuan Bin, vice president of the CNOOC (China National Offshore Oil Cooperation) Yancheng Green Energy Port project, said that through simulation and field tests, 8 lifting points were set on the surface of the dome module with the deformation being controlled within 5%.
The first phase of CNOOC Yancheng Green Energy Port includes four 220,000 m³ storage tanks and six 270,000 m³ ones, which are expected to start operation by the end of 2023. 6 million tons of liquefied natural gas will be processed, which can be used for 28 months in Jiangsu province.
On the southern edge of Taklimakan Desert, a thousand miles away, Hotan - Ruoqiang railway opened.
"7 girders were set and 2 kilometers of track were laid per day, laying a solid foundation for the railway's opening-to-traffic. Zhang Gang, who is in charge of the Hotan - Ruoqiang railway PJS2 section of China Railway 14th Bureau Group, said that the railway ends the life of no trains in Lop, Qira, Yutian, Minfeng, Qiemo and other places in Xinjiang. For the people in Hotan area leaving Xinjiang, the journey was shortened by more than 1000 kilometers.
China has been accelerating its infrastructure construction from the eastern coast to the Western Gobi, and from the North Xinjiang to the coast of the southern China.
The fire of traditional infrastructure is burning hot. The construction of Sichuan- Tibet railway is progressing smoothly, and the reconstruction and expansion of key sections of key transport channels along the Yangtze river and the coast, as well as a number of hub airports in Guangzhou and Shenzhen, is speeding up; The Crane beach - Zhejiang UHV transmission channel, the Fujian - Guangdong interconnection project, and the first batch of large-scale wind power and photovoltaic bases in the Gobi Desert are accelerating; China's investment in water conservancy has reached RMB 310.8 billion in the first 5 months, posting an increase of 54 percent year-on-year.
Construction of new infrastructure is speeding up. At the construction site of the second phase of Nanjing Tencent East China cloud computing base project, workers are lifting the steel columns under Hu Changhui's command, the manager of China Construction First Group. With a total investment of RMB 10 billion, this project is expected to bring an annual output value of more than RMB 5 billion and produce 300,000 servers annually.
According to Sun Wei, the deputy director of Department of Innovation and High-Tech Development of the National Development and Reform Commission, a strategy is in full swing to channel more computing resources from the eastern areas to the less developed western regions. Among the 10 national-data center clusters, 25 new projects have been kicked off, and the data center scale has reached 540,000 standard racks, which boosted investment of more than RMB 190 billion in various fields. It is estimated that during the 14th Five-Year Plan period, the investment in big-data center will increase 20 percent per year with a total investment of RMB 3 trillion in various fields.
Building of people's livelihood infrastructure should step up. We will support the construction of facilities covering inclusive elderly care, inclusive childcare, and national fitness, promote the reconstruction of old buildings in urban areas, develop affordable rental housing, reinforce flood control and drainage facilities, and improve disaster prevention and mitigation, so as to build a high-quality living space. It is worth knowing that from January to May, China's investment in public facility management increased 7.9 percent year-on-year.
"Advancing infrastructure construction in all respects is of great significance to ensuring national security, boosting domestic and foreign markets, expanding domestic demand, and promoting high-quality development." Liu Lifeng, researcher of Academy of Macroeconomic Research said.
China's infrastructure investment accelerates amid policy support
With an investment of RMB 1.5 billion, Binjiang New Town People's Hospital is under construction in Zhangshu, Jiangxi province.
"We are under great pressure, but the special government bonds of RMB 1.2 billion have solved the problem." According to Wang Nianru, the general manager of Zhangshu Development&Investment Group Co., Ltd., relevant departments opened "green lanes" for the project. It took only one month to change the land property and get the land pollution assessment report.
In Shapingba District of Chongqing, the renovation of old communities in the Central Bay area is in full swing. 52 old communities in Shapingba District have been renovated this year, benefiting more than 13,000 households. "Special funds from the central and municipal government amount to more than RMB 50 million. Moreover, the budget target has been issued in advance at the beginning of the year, which helps a lot." Officials of Housing and Urban-Rural Construction Commission of Shapingba District told us.
Since the beginning of this year, infrastructure investment has been accelerating amid macro policy supports. A batch of projects with long-term benefits have been kicked off.
Making full preparation. All regions and departments have carried out deep researches, and optimized various approval procedures this year, forming a virtuous circle. From January to May, the number of new projects nationwide increased 26.1 percent year-on-year with estimated investment increased 23.3 percent, and the paid-in investment (excluding real estate development and investment) increased 18.4 percent.
Focusing on major projects. The construction of Guinan high-speed railway and Nanning- Yulin railway has been speeding up. The Aksu- Alaer railway and Huanggang- Huangmei high-speed railway opened. China has been accelerating its key railway construction this year. In the first five months, the total investment in fixed assets has reached RMB 192.3 billion.
Reinforcing financial support. The local governments provide and settle special-purpose bonds of RMB 3.65 trillion. Meanwhile, all departments coordinate with each other to offer more financing support for key projects. We've ensured the provision of land, energy and other factors of production, and kept energy consumption of major national projects under separate management.
Boosting private investment. Shanxi has issued the fifth batch of special-purpose bonds this year. Both of its scale and supporting projects has reached a record high. Anhui plans to expand more than RMB 200 billion investment in urban renovation this year... We will give full play to the long-term mechanism for introducing projects to private investment, promote high-quality cooperation between governments, banks and enterprises, standardize and develop public-private partnership (PPP), and ensure the implementation of various infrastructure projects.
So far, 102 major projects in the 14th Five-Year Plan are progressing smoothly. "The progressing of infrastructure projects is expected to accelerate the workload quantification, a strong support for stabilizing investment." Wang Hong, the deputy secretary of National Development and Reform Commission said.
Focusing on both the immediate and long-term interests to promote high-quality development
On May 28, with a total investment of RMB 7.05 billion, the Meizhou pumped storage power station of China Southern Power Grid in the southern part of Wuhua County, Meizhou, Guangdong, was put into operation, powering the Guangdong-Hong Kong-Macao Greater Bay Area.
According to Lu Cheng, an officer of the China Southern Power Grid Peak Shaving and Frequency Modulation Power Generation Co., Ltd., the power station has provided over 1,000 jobs, expecting to generate nearly RMB 100 million of tax revenue for Meizhou every year.
In Hangshixin Village, 80 kilometers from the northeast of the power station, more than 450 Western-style buildings are arranged in order. People living are bursting with happiness. "The county offers over 20 skill-training courses for free." Liu Zhanhui, a member of the Hangshixin village committee told us that most of the middle-aged and young people choose to work in the nearby factories and shopping malls. "It's easier for people to go to school, work, see a doctor and go shopping here than in the mountains!" He added.
Infrastructure is an important support for economic and social development and plays a fundamental, strategic and leading role.
Supporting innovation to better infrastructure. Shenzhen Mawan trans-strait passage is China's biggest submarine tunnel on construction. On July 1st, its right line shield tunneling exceeded 1,100 meters. "More than 50% of rock stratum on the line is either soft or hard. Fortunately, with the self-developed tunnel shield, the tunneling efficiency has been improved." "National major equipment is a sharp weapon for major projects while the major projects, in turn, are a touchstone for national major equipment. They promote each other and further advancing the industrial chain upgrading." Ma Linpo, the manager of Shenzhen Mawan trans-strait passage of China Railway Tunnel Bureau told us.
Promoting coordination to set a solid infrastructure foundation. At the construction site of the first phase of Hedong Resource Recycling Center project in Beijing Tongzhou, more than 300 workers are busy installing pipelines. An underground WWTP covering 27,000 square meters will be built here. "To build the plant underground not only saves land, but also reduces noise and odor." According to Hou Feng, director of the CWEG, this center, together with the Hedong WWTP, will be processing 108,000 tons of sewage per day, which can meet the water demand for the eastern area of Beijing's sub-center.
Located in the core area of Beijing's sub-center, Hedong Resource Recycling Center is an upgrade of the old sewage plant, covering an area of 27,000 square meters. This underground garden-style WWTP will be able to process 60,000 tons of ewage per day, posting a total scale of 108,000 tons with the old Hedong WWTP.
Project under construction
This project is expected to start operation in October this year. On the premise of promoting green ecology and bettering living environment, it will greatly improve the sewage treatment and water utilization to ensure a clean North Canal, and to advance the coordinated development of Beijing-Tianjin-Hebei.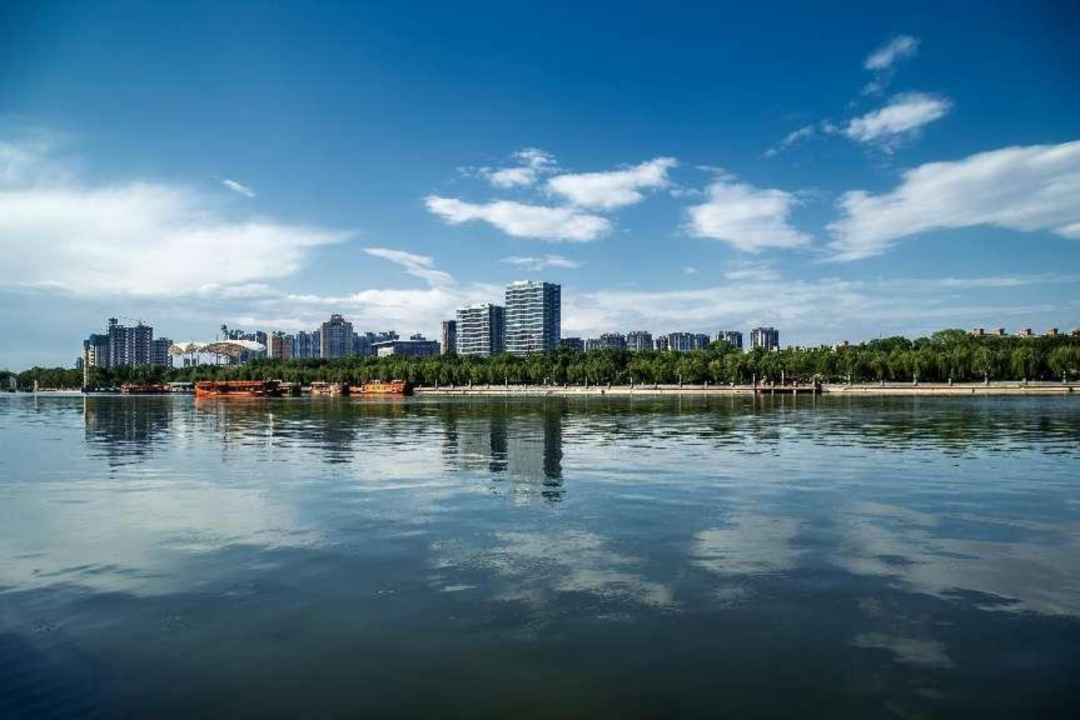 The North Canal
Recently, the State Council details Opinion on Better Use of Existing Infrastructure and Assets to Boost Effective Investment. It has made clear that construction of underground WWTPs according to local conditions will be advanced along with the integrated exploitation of underground and ground space to make better use of the existing assets and to increase revenue.
Underground WWTP is becoming a new trend for it coordinates well with the surrounding environment without further pollution. The integrated exploitation of underground and ground space is a primary means to make better use of the existing assets and is of great significance to further expand investment. With a total investment of RMB 500 million, Hedong Resource Recycling Center is a good example for promoting the development of upstream and downstream industries. By building the plant underground, about 25 mu (approx. 1.66 ha.) of land were saved and RMB 600 million were generated. The ground space will be built into an ecological complex integrating entertainment and science education, so as to improve the overall value of surrounding estate.
Building infrastructure to improve the people's livelihood. In the year of 2022, highways in third level and above will open in 460 towns to promote rural vitalization; more than 3,300 kilometers of new railway will be put into operation; about 20,000 kilometers of gas pipelines with potential risks will be renovated. The infrastructure projects will improve the people's livelihood, creating long-lasting happiness and security.
Link: https://wap.peopleapp.com/article/6793568/6663142