Xinhua News | Live up to President Xi's Expectation and Let Ottelia Acuminata Blossom over Erhai Lake
2022-06-10
As clean as ice and as pure as jade, it is a lake of clear water covering flower shape. In June, the Erhai Lake in Dali Bai Autonomous Prefecture of Yunnan Province were covered with Ottelia acuminata. Ottelia acuminata only survive in waters of extremely high quality, so it's also known as the "touchstone of water quality". Only in clear waters can flowers blossom. Locals say that among the nine plateau lakes in Yunnan, Ottelia acuminata will choose the clearest one.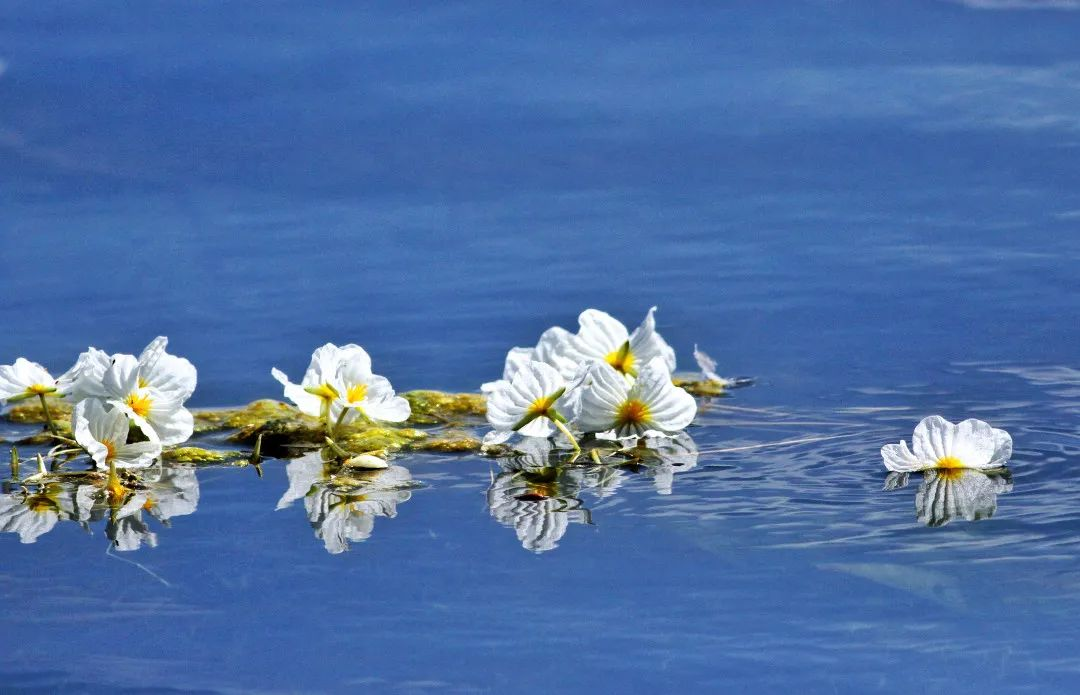 A clean Erhai leads to a prosperous Dali. Dali has kept this sentence in mind and put the "Two Mountains Theory" into practices, so as to continuously safeguard Erhai Lake and promote green development.
Meet this delicate beauty after half a century
As a unique and endangered aquatic plant in China, Ottelia acuminata requires very high-quality living environment to thrive,especially water clarity, so it is viewed as an indicator plant for gauging the water quality in the area. Early in the 1980s, there were a large number of Ottelia acuminata in the Erhai Lake, once a nutrient-poor lake. However, no Ottelia acuminata can hardly be found as the Lake becoming a eutrophic one.
Currently, this plant is regarded as one of the achievements of Erhai's ecological progress in recent years. With the improvement of water quality in Erhai Lake, original aquatic plants have been growing, like vallisneria natans, alopecurus pratensis along with others, forming an aquatic plant community.
Sun Hainan, director of Erhai Lake project, one of the Major National Projects for Water Pollution Control and Governance of Science and Technology, also the professor of School of Environmental Science and Engineering of Shanghai Jiao Tong University, said that the submerged vegetation has been restored with the improvement of water quality and water clarity. This indicates that the ecological restoration of Erhai Lake has taken the lead nationwide.
We should protect Erhai Lake like we protect our eyes.
We should protect nature and preserve the environment like we protect our eyes. We should treat the environment like we treat our lives. A battle to protect and harness Erhai Lake has been launched.
The protection and management of plateau lakes is a tough task facing the whole world. Being an economically underdeveloped area, Dali is in need of professional supports. In 2016, as a private enterprise, CWEG was recommended to take charge of the Erhai Lake trunk sewer construction project (the first Phase) under the PPP mode. The project involved 6 high-standard underground WWTPs, nearly 300 km long trunk sewer lines, forming an integrated rural wastewater treatment system.
"Pollution interception and control is very important to the overall lake management. No domestic sewage is allowed to discharge into the Erhai Lake." Dr. HouFeng, the chairman of China Water Environment Group, said that the DURWecosystem has changed the ways of how the world dealing with water sewage for centuries. Instead of discharging the urban sewage as pollutants, we use it as a stable resource for urban water recycling and we dedicated in its scientific collection and resource utilization.
Through technological innovation, this project saved investment of approx. RMB 600 million, shortened the construction period by approx.9 months, saved land area over 160 mu (approx. 10.6 ha.), and reduce 20 million tons of water pumped from the Erhai Lake every year. Achieving the 100% recycling of water resources, land resources and green energy. The water quality of Erhai Lake has been improved with the pollutants in the lake greatly reduced.
According to professor Sun Hainan, the pollution interception and control task is still arduous. It takes at least 10 years to manage large eutrophic lakes no matter at home and abroad. All have to go through three stages: pollution interception and control, water quality improvement and ecological restoration, among which, the first two require years of efforts.
"The treatment of Erhai Lake is a long-standing cause that requires decades of efforts. Pollution interception and control accounts for half of the lake's management. CWEG is in charge of the 6 underground WWTPs around the Erhai Lake, which has dealt with half of the pollution. Through systematic treatment in the past six years, the water quality of Erhai Lake has marked significant improvement. And this year has witnessed the biggest improvement." Sun Hainan said.
Clarity of case-II water reached 2.5m, the best in three years
"A friend told us that Ottelia acuminata will blossom when the water is extremely clean. We feel so lucky being here at this moment." A visitor who was new to here said. Following last year's trend, the plant has blossomed in many waters of Erhai Lake this year.
In 2020 and 2021, the water quality of Erhai Lake reached case-II for 7 months and case-III for 5 months and was rated as excellent. According to Wang Xinze, professor of School of Environmental Science and Engineering of Shanghai Jiao Tong University, the water quality of Erhai this year ranked the top in three years. The first reason is that the water quality has reached case-II for months. And the water clarity distance has reached 2.5 m for a very long time, rating as excellent.
Yang Guozong, Secretary of the Dali Committee, told us that the management of Erhai Lake has gained some success. It's a critical moment for us to advance protective management and ecological restoration. Bearing a sense of urgency, crisis and responsibility in mind, we should spare every effort to improve the water quality, water environment and water ecology of Erhai Lake.
Better water quality leads to a better city where people live more happily.
The 129 km eco-corridor around the lake served as the ecological barrier and the "economic corridor" for Erhai. In Wanqiao Underground WWTP, the overground landscape park embraces the eco-corridor. It looks like a beautiful pearl necklace keeping the sewage away from Erhai Lake.
Water environment management should comply with green development, according to Hou Feng. As green development projects, the 6 underground WWTPs perfectly matched with the eco-corridor. We plan to build high-quality coastal parks, visitor centers, ecological parking lots, museums and other supporting facilities, so as to share the ecological benefits with the government and the people.
"Dali has been pursuing green development and advancing its ecological advantages into economic advantages. We have embarked on a path of green development where economic development and ecological protection are coordinated." Yang Guozong said at the COP15 Erhai Forum.
The management of Erhai Lake is a long-standing cause that requires decades of efforts. We will persist in environmental protection and green development to keep the flowers flourishing forever.