A Delegation Led by Shaktikanta Das, Deputy Prime Minister of India, Visited CWEG's Beijing Tongzhou Bishui Underground WWTP
2016-08-19
On Aug. 17, 2016, accompanied by leaders from the China PPP Center and Economic Relations Division under the Ministry of Finance, a delegation led by Shaktikanta Das, Deputy Prime Minister of India, Sharmila Chavaly, Joint Secretary (Infrastructure and Energy) at the Ministry of Finance of India, and Sunder Raman, whole time member of the Securities and Exchange Board of India (SEBI), visited the Beijing Tongzhou Bishui Underground WWTP of CWEG and held a symposium. CWEG Vice President Fang Yong introduced the implementation progress of the group's PPP projects to foreign guests, especially of the Nanming River project. Then, the two parties had a series of in-depth discussions and exchanges on the PPP models of China and India.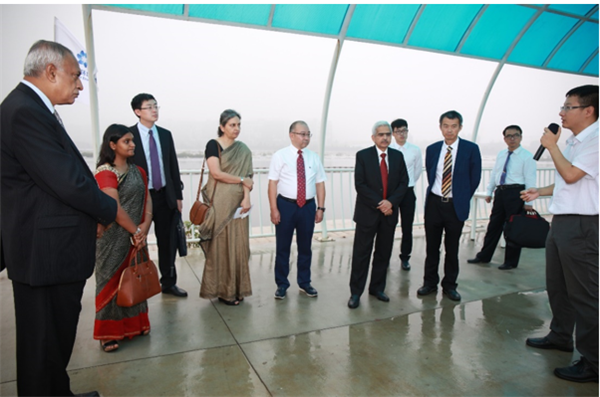 Indian Deputy Prime Minister Shaktikanta Das (the third from the right), Joint Secretary Sharmila Chavaly (the fourth from the right), and Sunder Raman, whole time member of the SEBI (the first from the left) visited the Bishui Underground WWTP
As a core part of the PPP demonstration project "Beijing-Tianjin-Hebei Integration: The North Canal Watershed Management", the Bishui Underground WWTP, located only 2.2 km from the core area of Beijing's sub-center Tongzhou, receives and treats 84% of domestic wastewater from the new urban zone of Tongzhou District, effectively protecting underground water sources from being polluted and purifying the North Canal's water bodies. The treated, high-quality effluent will be used for significantly recharging the watercourses, and for urban landscaping, industrial and domestic uses. In this way, water resources can be effectively recycled, helping improve the ecological, investment and living environments of the city.
Backed by CWEG's fifth generation of proprietary underground WWTP system and seven world-leading, whole new, and intelligent green and low-carbon technologies represented by SWIFT (Sustainable Water Intelligent puriFication Technology), the Bishui Underground WWTP saves 66% of land and increases treatment capacity by 80% to 180,000 t/d. All the treatment facilities were placed underground, leaving aboveground space for building a large urban forest & wetland park and Beijing's first water environment science education base. The WWTP, as a PPP-driven innovation that maximizes the Value for Money, was highly recognized by Shaktikanta Das, Deputy Prime Minister of India, who anticipated much more exchanges and cooperation in water environment management between India and China.